Hyundai Cars With 3rd Row Seating
SUVs with third-row seating are great options for bigger families, carpoolers, or people going on trips with large groups. Shopping for big cars is often challenging, especially considering all the dimensions and features you may need. If you're looking to trade in your current SUV with something a little roomier, Hyundai of Trenton has several new and used options in our inventory for you to consider. Check out our selling and trade-in options to help you afford an upgrade to a larger vehicle. Here are some of the top Hyundai vehicles on the market that have third-row seating capacity. 
Hyundai Santa Fe XL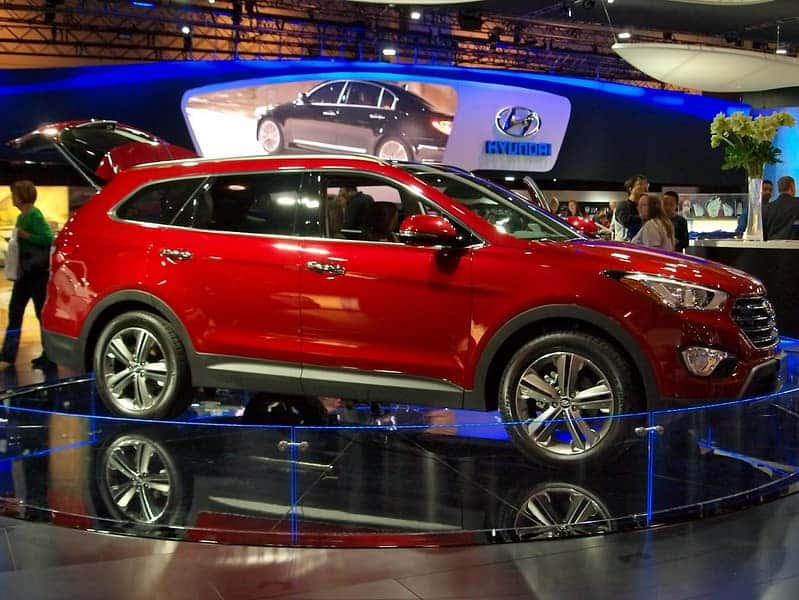 "CIAS 2013 – 2014 Hyundai Santa Fe" licensed under "CC By 2.0" by Michael
The Santa Fe XL is one of only two Hyundai options with third-row seating. Here are some of the features and specifications you'll find in the Santa Fe XL: 
Years
Though Hyundai doesn't offer new, third-row seating in the latest models, you can explore models from 2019 and earlier. This generation of cars was in production from 2012 through 2018 when Hyundai created the Palisade to replace it as its three-row large SUV. The 2019 Hyundai is the most up-to-date model, so we can look at the specs from this year.
Dimensions
The 2019 Santa Fe is a great option for carrying many passengers or transferring cargo. With all seats in place, you'll find 13.5 cubic feet with a maximum cargo capacity of 80 cubic feet. It's nearly 70 inches high and 193.1 inches long. Other dimensions for the front and rear seats include:
Front Head Room: 39.9 inches

Front Hip Room: 56.7 inches

Front Leg Room: 41.3 inches

Front Shoulder Room: 59.4 inches

Rear Head Room: 39.4 inches

Rear Hip Room: 55.4 inches

Rear Leg Room: 40.4 inches

Rear Shoulder Room: 58.3 inches
Engine and Fuel Economy
The 2019 Santa Fe XL comes standard with a 3.3-liter six-cylinder engine and front-wheel drive with a six-speed automatic transmission. Since it's a large SUV, you'll find a combined fuel economy of 20 miles per gallon. This can mean up to 18 mpg in the city and 25 on highways. You'll find this engine puts out 291 horsepower and 262 lb-ft of torque.
Interior Features
Along with the roomy interior, you'll find other ways to keep you and your passengers comfortable. This includes automatic dual-zone temperature control and heated leather seat options. With the seven-inch touchscreen display, you can easily access information and content from your devices through Bluetooth connectivity. Optional panoramic sunroofs can ensure each person in the three rows gets a bit of sunlight.
Safety Features
Safety is exceptionally important when driving with other people in the car. In the Santa Fe XL, you will have a range of available technology features, like blind-spot detection, rear cross-traffic alerts, and adaptive cruise control. Emergency braking and multi-camera systems can keep you safe while parking or driving.
Towing and Cargo
One benefit of having a large SUV is the towing and cargo capabilities. The 2019 Santa Fe XL has a maximum payload of 1,495 pounds and can tow up to a whopping 5,000 pounds if you hope to take the trailer or other equipment on an adventure.
Hyundai Palisade
The other option with third-row seating is the Hyundai Palisade. Let's look at some of the key features of this vehicle:
Years
Hyundai just started making the 2022 Palisade model, so this is a relatively new option from the manufacturer.
Dimensions
The Palisade is slightly bigger than the Santa Fe in several ways. The exterior is almost 69 inches high with its length being 196.1 inches. Other dimensions for this vehicle include the following: 
Total Passenger Volume: 155.3 inches

Cargo Space Behind the Front Row 86.4 cubic feet

Cargo Space Behind the Second Row 45.8 cubic feet

Cargo Space/Area Behind the Third Row 18 cubic feet

Front Head Room: 40.7 inches

Front Leg Room: 44.1 inches

Front Shoulder Room: 61.2 inches

Front Hip Room: 58.1 inches

Second Row Head Room: 40.1 inches

Second Row Leg Room: 42.4 inches

Second Row Shoulder Room: 60.8 inches

Second Row Hip Room: 57.7 inches

Third Row Head Room: 37.8 inches

Third Row Leg Room: 31.4 inches

Third Row Shoulder Room: 55.2 inches

Third Row Hip Room: 43.7 inches
Engine and Fuel Economy
The Palisade has a slightly better fuel economy than the Santa Fe XL. You'll find these cars can get up to 22 combined mpg with 19 mpg when driving in the city and 26 mpg when driving on the highway. This 3.8-liter engine is slightly bigger than the Santa Fe XL's, though it's also a six-cylinder with front-wheel drive.
Interior Features
With automated seats in the second row, you can easily improve the access to the third row with the push of a button. Hyundai also upgraded the standard touchscreen to eight inches with Android Auto and Apple CarPlay connectivity available. To ensure everyone stays connected, you can upgrade to up to seven USB ports and connect two Bluetooth devices simultaneously if sharing music or other features.
Safety Features
The Palisade comes with a lot of the same safety features as the Santa Fe XL, though you might find more available options or upgrades in several areas. These available features include automated emergency braking when the vehicle detects a pedestrian, lane-departure warnings, adaptive cruise control, and several cameras to assist with parking and more.
Towing and Cargo
With the bigger vehicle and engine, you can expect the Hyundai Palisade to carry larger loads. The cargo can handle up to 1,605 pounds. The towing is about the same for the Palisade, carrying up to 5,000 pounds in the back.
Interested in the Hyundai Santa Fe XL or the Palisade?
Now that you have the details about the three-row options from Hyundai, check out our new inventory to find the right one for you. 
While you're browsing the website, you'll find new vehicle specials and incentivized offers like cashback on some of our models and can explore your financing options at our finance center prior to your visit.
 Contact us today to get in touch with one of our certified professionals that can help answer any of your questions or schedule a day to come into the showroom.