Best Hyundai Hybrids at Hyundai of Trenton
Hybrid cars have become increasingly popular over the past several years. These energy-efficient vehicles can save drivers money when it comes to fuel and maintenance. Hyundai offers some of the best hybrid options for drivers looking for a commuter, recreational, or utility vehicle. If you're looking for the best Hyundai hybrids at Hyundai of Trenton, look no further. We've put together this list of what makes each Hyundai hybrid model stand out so you can choose which vehicle best fits your transportation needs. Check out our favorite Hyundai hybrids and the qualities that we believe make them the best cars for our customers.
Hyundai Sonata Hybrid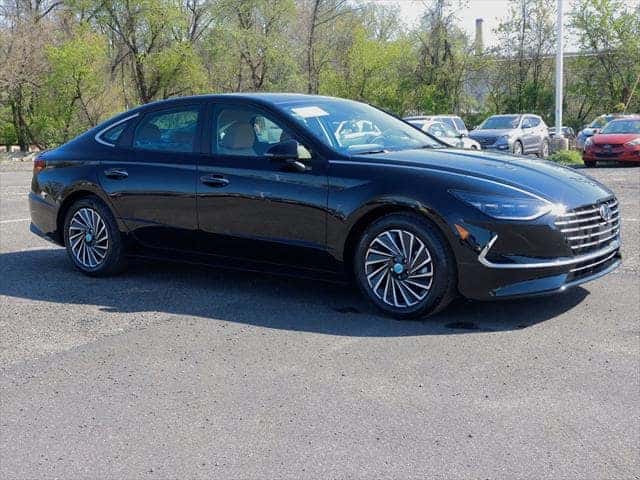 If you're looking for an exceptional family car that's both eco-friendly and visually striking, the Hyundai Sonata may be for you. This sedan delivers an upscale interior packed with technology features, enough space to seat a family comfortably, and a composed ride that can liven up your errand runs and daily commute.
The Sonata Hybrid can achieve between 47 and 52 combined mpg depending on the model, which is significant for a hybrid of its class. It also comes with Hyundai's SmartSense driver assist package, which includes automatic high beams and adaptive cruise control to keep you safe.
The Sonata Hybrid pairs a 2.0-liter, four-cylinder engine with a motor-generator. This setup produces 150 horsepower and comes with an automatic eight-speed transmission that facilitates smooth transitions between gears.
On the inside, the cabin is made from upscale materials that exude comfort and class. It has an intuitively designed dashboard, making it easy for drivers and passengers to navigate the cabin controls. A spacious backseat provides the room you need to fit your entire family. Additionally, it comes with an 8-inch infotainment touch-screen display, and drivers can unlock their car using a smartphone app.
Hyundai IONIQ Hybrid
The Hyundai IONIQ Hybrid is a great hybrid vehicle for drivers looking to improve the energy efficiency of their ride without feeling like they're driving an electric vehicle. This model boasts an impressive 59 combined mpg, and drivers who choose the plug-in version can get up to 29 miles of all-electric driving distance, although the combined mpg is slightly lower for this model.
The IONIQ is renowned for its comfortable driving style, which makes it a great family or commuter car to get you where you need to go. With an understated design and sustainable materials, this vehicle is among the gold standard for eco-conscious drivers looking to reduce their carbon emissions.
The Hyundai IONIQ combines a 1.6-liter, four-cylinder engine with an electric motor and a six-speed dual-clutch automatic transmission. Regarding performance, this is a stable vehicle that provides confidence and ease of mind to its drivers. It's responsive and makes good contact with the road so you can feel assured wherever you roam.
The cabin is roomy and comfortable, providing enough backseat space for your passengers to ride in comfort. All models, including the base, come with an 8-inch infotainment screen, plus features like Apple CarPlay, Android Auto, and additional USB ports for convenience, comfort, and entertainment.
Hyundai Tucson Hybrid
Stylish and attractive, the Hyundai Tucson Hybrid is a well-designed compact SUV that's guaranteed to suit your family's active lifestyle. This hybrid comes with a plug-in option to improve your fuel efficiency and make your ride more environmentally friendly. With the plug-in model, you get a 13.8 kWh battery pack that offers up to 33 miles of electric-only range.
Drivers of the Tucson Hybrid ride with a turbocharged 1.6-liter, four-cylinder engine. This setup generates 195 horsepower and comes standard with all-wheel drive. It also comes with a six-speed automatic transmission that toggles smoothly and responsively between gears. 
While driving, the Tucson provides a clean ride that emphasizes its effortless handling. This is a great SUV for drivers who value a quiet and refined cruising style. On the inside, the Tucson employs a modern design. It comes standard with an 8-inch touch-screen infotainment system, and its thoughtfully designed interior offers space for comfort and cargo.
Find the Hyundai Hybrid Car of Your Dreams
These are three of the best Hyundai hybrids that we offer at Hyundai of Trenton. These vehicles are known for their attractive appearances, impressive interior space, top-of-the-line eco-friendliness, and their smooth and efficient driving performance. If you're looking to get behind the wheel of a new or used Hyundai hybrid, contact us by phone or online, or stop by to meet with a sales representative in person.
Here at Hyundai of Trenton, we want you to get the hybrid car of your dreams. To make your purchase easier, we offer an online loan pre-approval application. You can also visit us to meet with a financing professional who can answer your questions and get you started on the financing process. Looking to sell or trade your model for an upgrade? Our team has you covered. Stop by to get your questions answered today.